Fighting Game Button Hole Templates
This template can make your hole drilling process much easier.
The link below (10 Button Template) is a GIF image. Right click and Save it. You may edit it if you wish.
Print it on normal paper at 100% scale. Note your software's default may scale it down to fit the page. Do not do this. If it won't fit it's no big deal as long as you have the part with the holes.
Lay the template on top of the board to be drilled. Using a razor blade cut the board through the paper at each hole so you have exact points. Remove the template and mark over the cuts with a pencil. Do your best Tim Allen grunt and get your drill on.





10 Button Template
This is my all purpose fighting game template. It has positions for a joystick and to 10 holes. Obviously you don't need to use all of these. This template is suited for Capcom & Neo Geo (SNK) layouts with a start button and optionally a taunt button.

Template - Capcom - Adobe Acrobat
Capcom kindly sent me this template which was used for their manuals. You can get the original in PDF (Acrobat) format. This one's mainly for illustration purposes.

Template - Capcom - GIF
Same as above. This one which I've converted to GIF. I've made this one aligned and symmetrical so it can actually be used as a template.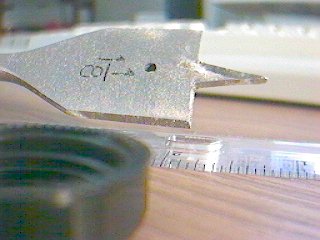 Your joystick hole as well as your button holes should be 1-1/8"
(for typical arcade controls as found throughout this site).